I took a trip into Brooklyn yesterday. Brooklyn has been glamorized in songs and in movies, but if you never lived there and you suddenly found yourself wandering the borough, you might wonder what all the fuss is about. I mean, if you went to Coney Island you'd be surrounded by the projects. Not exactly the best way to attract tourists.
Brooklyn is an interesting place. I'm glad I don't live there anymore, but I'm glad I got to live there. It seems like it's all Russians, Armenians, Syrians, Koreans, Vietnamese and the like now, but it wasn't that long ago when people were saying Brooklyn is nothing but Italians, Jews, and Puerto Ricans, so what are you gonna do? That's the march of time. America isn't like other countries, because there is no original culture (unless you count the natives before the Europeans). Immigration keeps the mix fresh. A stagnant America isn't America.
Edit 2/29 - The above paragraph bothers me a bit. First, it kind of sounds like I'm a little racist, which I might be, but I wasn't intending to be there. I have no problem with any of the ethnic groups mentioned, I was just trying to paint a picture of the changing ethnic landscape, and I don't think I did a good job. Second, the "original culture" line is kind of inaccurate; Canada could say the same, for example. Third, this marks the first time I say "and the like," which I use two more times in this entry. I really should proof read before posting.
The only thing I really miss about the changing ethnic landscape is the loss of restaurants, delis, and the like. Lots of places I used to visit are long gone. There are a few left, fortunately. Brooklyn is one of the few places in the country where you can buy bialys. You can't beat Coney Island Bialys & Bagels.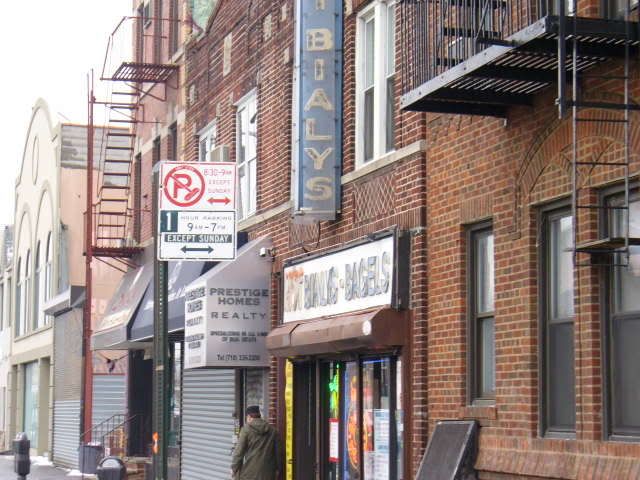 What's a trip to Brooklyn without some pastries?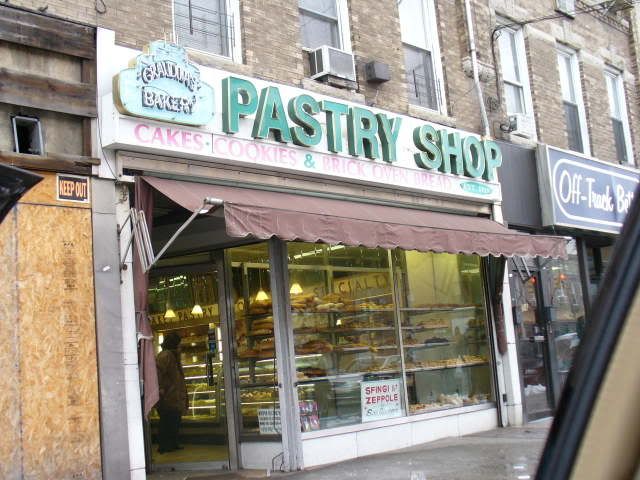 The place used to be called C&D's long ago, but it's now called Grandma's, probably to be more catchy. It's still the same place where my mom got her wedding cake, and I got my birthday cakes and communion cake. Cake is fine, but there's better stuff in the world. For example, cookies and cannoli.
You can satisfy more than your sweet tooth. How about some fresh bread? Hot and fresh. Plus, it's nearly impossible to find proscuitto bread anywhere else in the U.S.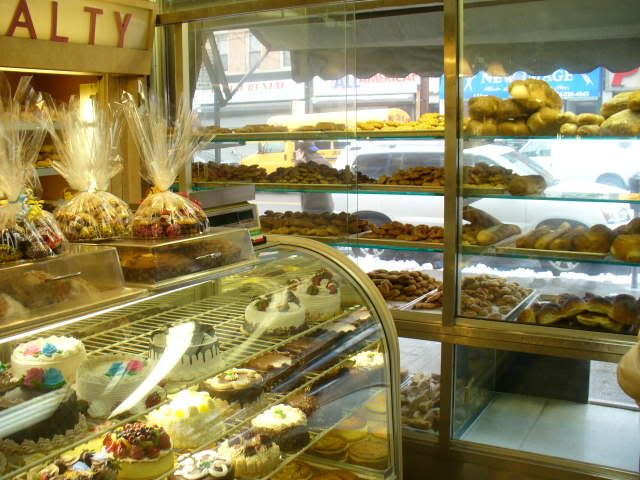 So you got your bread, got your dessert, now you need some meat. Maybe a little sausage, a little salami, a little cappicola...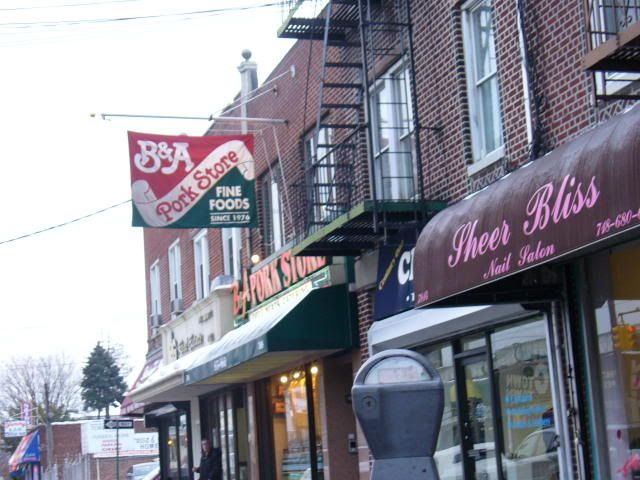 Maybe even something a little more exotic? In Philadelphia, they call these "shooters," but I didn't see the Eagles win a Super Bowl, now did I?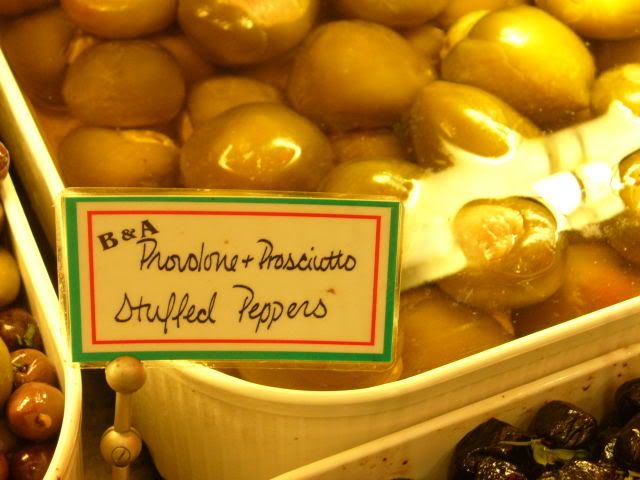 This building is located on 74th Street in
Dyker Heights
, around the corner from Fort Hamilton Pkwy and Bay Ridge Pkwy. It's the last place I lived before leaving Brooklyn.
However, Walter L. Johnson did not care much for Italians, especially poor Italians. The Brooklyn Eagle explained a problem Johnson had with a particular Italian family in Dyker Heights, "...[The property] which at the time was owned by Walter L. Johnson, was occupied by an Italian family, to whom Mr. Johnson paid $600 to vacate it in order that the neighborhood of Dyker Heights, which is very carefully restricted, might have no objectionable features about it."
I didn't even get six hundred bucks to vacate.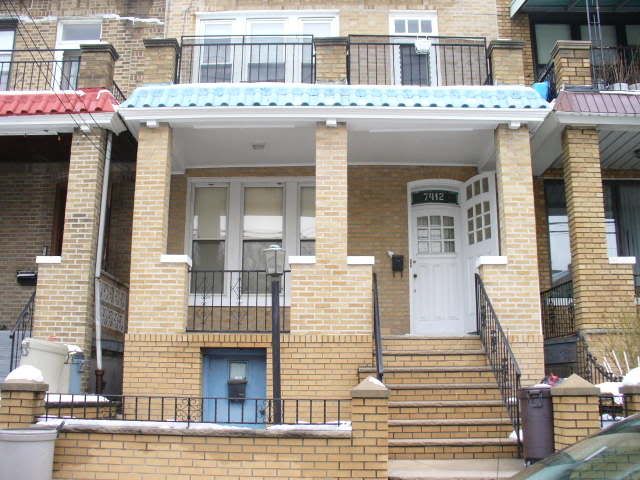 We lived on the first floor. You'd think after 20 or so years, that front door would have been fixed, but you'd be thinking incorrectly. This wasn't my destination, anyway. I was heading to my mother's cousin's apartment, where many moons ago I fell down on that small grassy area and sliced my knee open on a broken bottle.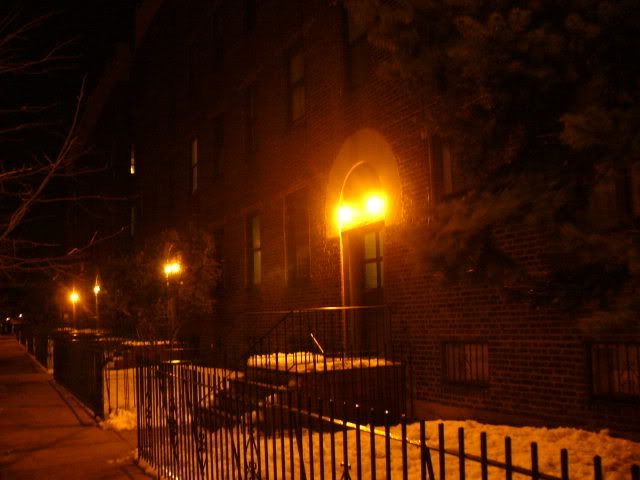 Being around family means being called "Cousin Christo
fuh
" for the duration. Another somewhat unique aspect of New York is, if you're single and not living at home, you will be berated for wasting money and not taking care of your parent(s). What, you're going to get your own apartment? Look at Mr. Fancy Guy over here. Mr. Rockefeller with his millions. Where'd you park the Rolls Royce, eh?
Brooklyn's about more than food and family, of course. Brooklyn has sports, museums, theater, and the like, but really, food comes first. Where else can you get a slice of pizza and hire an attorney in the same building?