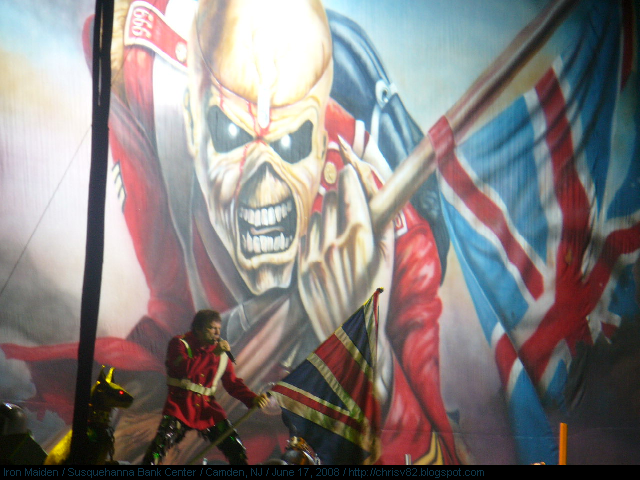 One of the best concerts I have ever seen was Iron Maiden performing during their Brave New World tour in 2000. It's easily in my top three, and may even be my favorite. Having neglected to see the band again since that time, I decided to purchase a ticket for their Somewhere Back in Time tour (you might even see me a few rows in front of the camera in the above video), promoting the DVD release of their 1985 concert video
Live After Death
. This time around, the band would be performing a majority of songs from
Powerslave
, with the rest filled out from other vintage albums like
Somewhere in Time
and
Seventh Son of a Seventh Son
. Although I'm a fan of their later albums, there's nothing like the classics.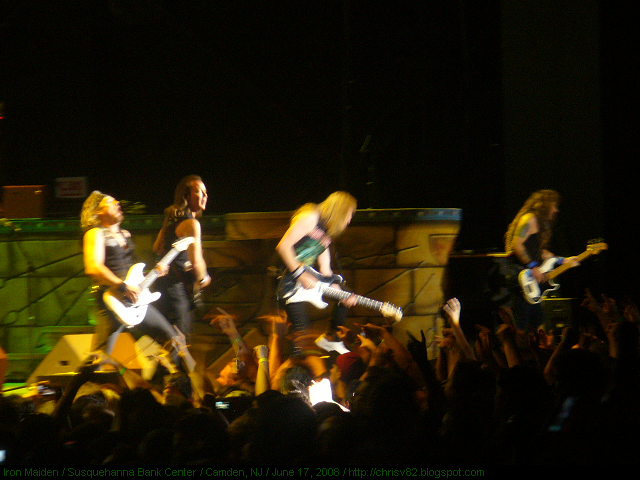 I thought the band put on a great show. They were very energetic and sharp, and appeared to be on the same page the whole night. Comparing it to the last show eight years ago, I did think they lost a step, but that's what happens when you go from age 40 to 50. They're still in pretty good concert shape, especially Bruce, who may not have the same voice he had in 1985, but can still outsing (and outrun) any other singer in the genre.
I won't spend much time on the opening act, Lauren Harris, bassist Steve Harris' daughter. I'll just note that she reminded me of Hannah Montana with rock guitars (that kept playing the same riffs and solos each song). The highlight of her performance was these lyrics: "Can't you see / you're a part of me / count 1-2-3 / you're inside of me." She was totally inappropriate to open for Maiden.
Speaking of which, let's get back to them. They had a bit of a stage production, with a
goat head devil
for
The Number of the Beast
, a toilet paper
mummy Eddie
for
Iron Maiden
,
"fog" and swaying lights
for
Rime of the Ancient Mariner
, and a walking, giant
cybernetic Eddie
for
The Clairvoyant
. Some was cool, some was hokey, but all was in good fun.
If you like rock and you have a chance to see Iron Maiden in concert, I highly recommend it. They are a fantastic live band, one of the most influential acts of the metal genre and a legendary group.